A modern day Bonnie and Clyde robbed a bank and then had sex publicly, right in the middle of the bank, while the stunned customers and tellers watched with their feet tied and their hands up!
Christo Balenze and Stellina Macrosta, two sexy bank robbers who are still at large, flabbergasted the morning crowd at Banco Federali, in Fruizzi, Sicili, when they began to madly kiss each other just after the terrified tellers had handed over two hundred thousand lira at gunpoint, the equivalent of 20,000 dollars.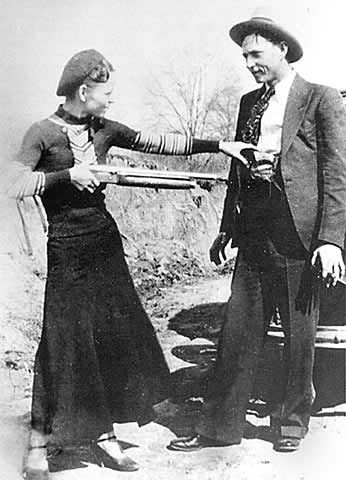 "They were hot to trot," says Calvini Rotonzo, the branch manager. "I've never seen anything quite like it, except in the movies.
"They were mean as snakes until they got the money. They put their guns to our heads and tied all of our feet. Then they were all over each other. It almost got embarrassing to watch.
"I would have offered them my office, or the vault, except they were armed robbers. I didn't want to say anything that would cause them to get angry and hurt somebody.
"They told us to reach for the sky, and that anybody who moved would be shot. We didn't want to test them. They've killed people before. We were as still as stone, and they were moving all over the place."
Throughout the entire ordeal, both of them kept guns in their hands and one eye on the onlookers, who they had warned would be shot for making even the slightest move.
"It was incredible," says Alfredo Milino, a regular customer at the bank. "We were all frozen, fearing our lives and wanting these crooks to be caught, but we couldn't do anything because they are so dangerous.
"At the same time, we were further humiliated by watching them rip off each other's clothes and make passionate love in the middle of the bank. It was an experience I'll never forget.
Afterwards, Christo winked at all the women tellers. And Stellina made eyes at the men in the bank.
"It was shocking," says Milino. "I just thank God no one was hurt."
The hot-blooded couple is now in hiding.
Investigators, who say they are hot on their trail, have watched the film of the robbery over and over. They expect the couple will lay low for a few weeks after this one.
"Their days are numbered," says police detective Marco Rossini. "We've got some clues that are getting us very close to them. They've gone too far this time. In the meantime, we've got a whale of a video to watch."