"I like to have a man every night," says Virginia Landough, 34. "I'm making up for lost time, and lost pleasure."
Less than a year ago, Virginia was "Sister Virginia," and she was a virgin. She lived in a quaint mountainside convent with other celibate sisters.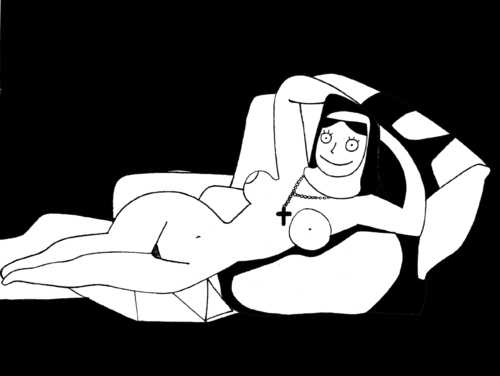 In her twenty-five years in the order, she never broke her vow.
Says Virginia: "I was torn. I was committed to God's work. But I knew something was missing in my life. I was strongly attracted to men.
"The little contact I had with them — nearly all priests — was enough to drive me crazy. I finally made the decision I knew I had to make. I left the order."
Now, Virginia finds herself surrounded by men. She goes out on dates nearly every night — and she and her men friends usually end up in the bedroom.
"It's rare that I sleep alone," she says. "But I'm not a tramp. I love sex, and I love men. My years as a nun allowed me to know myself and be honest about who I am. I've grown. This is a new and different phase in my life. The life I lead now has a lot of sex in it — because that's who I am — but it's a very mature, responsible life."
Virginia says that she might get married and start a family, one day. And then again, she might not.
"I am open to the possibilities. What I really care about is my integrity. That's more important than the details of what I do. I am a caring, loving individual, and that shows up in everything I do. I feel very much at peace with myself, and with God."
Virginia sees men at night, but she still spends her days in a totally feminine environment. The former nun now teaches in an all-girls Catholic school, similar to the one she attended as a child. She feels that she has a lot to offer the impressionable girls she teaches.
"They need guidance and understanding," she says. "I'm in a position to give them that."
She also offers guidance and understanding to the men she sleeps with, even though she spent most of her life being afraid of men.
"I never really knew any," she says. "But now that I've faced my fear, I find that men are wonderful. Their sexuality is simply part of who they are. Many women don't understand that. They blame them for it, as if they are doing something wrong. Life is so full of misunderstandings. Sometimes, it's kind of sad that way."